Spain's 2017 figures show increase in collector production despite declining market
Submitted by

Baerbel Epp

on March 6, 2018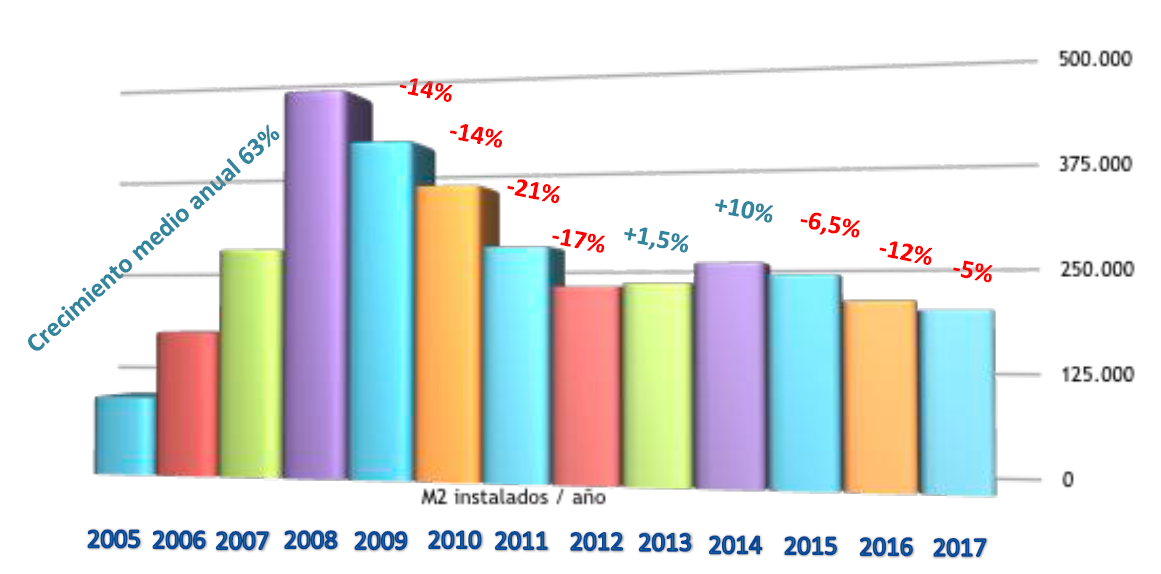 2017 saw the Spanish solar thermal market dropping by 5 % to 201,505 m2, or 141 MWth, but surpassing 4 million m2 overall, totalling 4,106,195 m2, or 2.87 GWth. The main reason for the downward trend had been the poor showing of regional support schemes, Spain's solar thermal industry federation, ASIT, said. Still, economic growth is bolstering the construction sector, and a rising number of newbuilds might put the market back on track this year. In addition, the collector industry showed a 33 % increase, to 198,525 m2, in 2017. Most of the amount, 63 % to be precise, was exported.
Source: ASIT
The Spanish solar thermal market reached its peak in 2008, at almost 500,000 m2. The lingering recession in the financial and construction industry has brought down the market to between 200,000 m2 and 250,000 m2 annually over the last five years. With 201,505 m2 installed in 2017, the collector area was at its lowest level since 2006.
 
ASIT's market report published at the end of February (see the attached document in Spanish) names a variety of reasons for the poor performance. Last year showed much fewer non-subsidised systems being installed – not even one in ten collectors was sold from a purely economic point of view (see the table below). In the document, ASIT also points out the weak showing of regional subsidy schemes, mainly in Andalusia. Sales in Spain's southernmost region contributed only 5 % to the 2017 total, down from 20 % in 2015. Pascual Polo, General Secretary of ASIT, said that the
new Andalusian incentive scheme
had not been working as intended, as it only provided grants for built-in and integrated but not prebuilt solar systems. "There is a lack of experienced installers for this kind of system in the residential sector. It's one reason why ASIT is trying to promote the use of integrated units in the industrial and hotel sectors," Polo said.  
 

2015

2016

2017

Newly installed collector area [m2]

241,165

212,190

201,505

Percentage of systems installed because of CTE

64 %

71 %

86 %

Percentage of incentivised systems by region

20 %

7 %

5 %

Percentage of systems paid for entirely by consumers

15 %

21 %

7 %

Percentage of service sector / industrial systems

1 %

1 %

2 %

Locally manufactured collector area [m2]

 

130,000

149,500

198,525

Locally manufactured and exported collector area [m2]

81,350

86,500

125,900
Key market figures. The strong growth in exports (+44 %) was mainly driven by three Spanish collector manufacturers: BDR Thermea, Delpaso Solar and Termicol.
Source: ASIT market report
Optimistic for 2018
The only market bucking the trend was the one based on national CTE building regulations. The collector area newly installed because of CTE rules increased from 71 % to 86 %, to 173,294 m2, last year. This reflects the positive development in the housing market, which saw an increase from 49,695 buildings in 2015 to 64,038 only a year later. The preliminary data for the period between January and October 2017 showed 68,084 newbuilds, which means around 75,000 houses are estimated to have been built in 2017 (+20 %). 
 
Considering these figures, 2018 could offer a chance to reverse the overall trend. "A growing CTE market, alongside an expected increase in demand from industrial and service sector customers, makes us feel optimistic for this year," Polo said.

The Spanish solar sector has annual sales of EUR 161 million and employs around 4,000 people. ASIT estimated the turnover in 2016 to have been EUR 170 million, at a job total of 4,200.

Organisations mentioned in this article:
Alejandro Diego Rosell is a freelance journalist and consultant specialised in renewable energies and based in Madrid, Spain.