Green hotel in Italy's mountains
Submitted by

Baerbel Epp

on June 5, 2018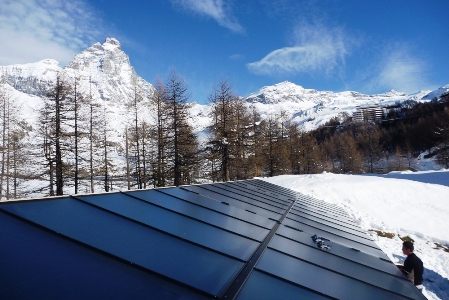 Solar thermal performs well even in high-mountain areas during winter season. The installation shown in the photo is proof that combining solar and other renewable technologies, such as biomass boilers and a solar-assisted heat pump, results in a synergy that can be very productive. The renewable heating system may have had a price tag of EUR 150,900 but uses innovative solutions, including phase change materials, to store thermal energy and saves EUR 16,000 per year.
Photo: Luca Degiorgis / Degmar
It was installed at the Lac Bleu (Blue Lake) hotel in Cervinia, a well-known holiday resort in the Aosta Valley region, situated more than 2,000 metres above sea level. The hotel is quite small, considering it has only 20 rooms and 3 suites. Management took several measures to reduce the building's carbon footprint. The first was the purchase of a small electric vehicle to be used in day-to-day operations and to transport guests.
But the focus of the sustainability efforts has been on utilising local renewable energy sources, such as solar and biomass, to provide hot water and space heating for the hotel. In addition, the building envelope has seen some improvements: Highly energy-efficient window frames have replaced the old ones and another insulation layer has been added to the walls. The rooms have also been equipped with ventilators connected to a heat recovery system.
Two engineers, Luca Degiorgis and Giorgio Marcon, who work at Italian-based Degmar, created the layout, while Christian Cavorsin, Atelier Projet, also based in Italy, was responsible for the architectural design of the structure.
Renewables in sync
The main installation to generate heat for the hotel runs on biomass and is fed from either a log boiler, which supplies the baseload, or a smaller pellet one to meet peak demand. The 80 m² solar field, which consists of large collectors measuring about 12 m² each, was mounted on the ground owing to a lack of roof space. The system also includes a solar-assisted water-to-water heat pump to provide 15.6 kW of nominal thermal and 3.29 kW of nominal electric power. The pump can be operated at a maximum supply temperature of 55 °C, while the minimum evaporation temperature is around 5 °C. Its main power source is a 3.9 kWp photovoltaic unit.
Paraffin for more solar energy
The system has two water storage tanks. The primary tank is kept at the pre-set temperature level. The secondary one is heated by solar energy alone and contains paraffin, a phase change material, or PCM, with a melting point of 56 °C. It increases the storage capacity of the tank, since above 56 °C any surplus of solar energy is stored in the melting process of the paraffin without increasing the water temperature. In this way, the custom-built tank raises the efficiency of the solar loop.
The heat pump´s evaporator draws thermal energy from a water loop based on two heat exchangers. The first one is immersed in the solar-heated tank water, while the other is the evaporator of the pump itself. 
System economics and performance
The renewable system cuts annual heating costs by 67 %. The 22,000 litres of oil which had been consumed each year cost about EUR 24,000. The current biomass fuel adds up to about 8,000 EUR/year, of which EUR 4,000 are for 40 tonnes of wood logs and EUR 4,000 for 12 tonnes of pellets.
The main advantage of the solar thermal plant comes into play in summer, when both biomass boilers can be shut off to reduce partial load operation for lifetime and efficiency reasons.
It should be noted that even in winter, at a temperature of 5 °C, the solar plant could produce hot water at 70 °C, which would be hot enough for space heating.
 
| | |
| --- | --- |
| Category | Amount (EUR) |
| Demolition and preparation | 7,675 |
| Solar thermal system | 33,213 |
| Heat storage units and heat exchangers | 20,200 |
| Heat storage with phase change material | 27,325 |
| Heat pump (including control equipment) | 19,875 |
| Biomass boiler upgrade | 4,975 |
| Piping | 10,275 |
| Water treatment | 2,988 |
| Building management system | 24,375 |
| Total | 150,900 |
Investment costs of key components
Source: Degmar
The article was written by Riccardo Battisti, a solar thermal consultant and market researcher working at Ambiente Italia (Rome, Italy).
Websites of organisations mentioned in this article: