Great Britain: Rumours of Closing down Renewable Heat Incentives
Submitted by

Baerbel Epp

on February 10, 2016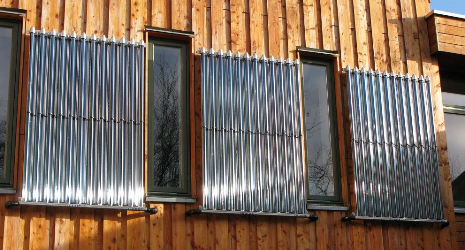 Since the win at the general election May 2015, the UK Conservative Party has made significant changes to policies that were related to energy and environment protection. These include the currently in parliament discussed reduction of subsidies for wind and solar PV with the Feed-In tariffs and the reduction of the renewable quote for electricity suppliers, that are stipulated to source an increasing proportion of electricity from renewable sources. Also the climate change levy (CCL) exemption from renewable electricity schemes has been removed and the Green Deal and 'zero carbon' homes initiatives have been abandoned. These cuts were justified by the Department of Energy and Climate Change (DECC) who announced these would be "….Reducing energy bills for hard working British families and businesses and meeting climate goals in the most cost effective way ….. " 
Photo: The Greenshop Group
So far, solar thermal has not been directly mentioned in these cuts, but the main incentive scheme for this is the Renewable Heat Incentive which is now under review in an attempt to reduce its total budget of GBP700 million up to 2021. The big uncertainty comes from the calculation of administrative costs. The total 2012/2013 RHI expenditure for example was only GBP 31 million for electricity and heat. Another government press release report, however, says that the RHI costs GBP 400 million per year.
In January 2016 Amber Rudd, Secretary of State for Energy and Climate Change, announced that "I am working across government with other departments to make sure action is taken across heat and transport." This statement, however, is unclear and the actions so far do not seem to match this statement.
Northern Ireland intends to close RHI scheme
The budget restriction rumours became more certain as the Northern Ireland Renewable Heat Incentive is now proposed to be closed (see table below). This scheme ran differently to the UK mainland of England, Wales and Scotland. Commenting on this decision the Irish Minister for Enterprise, Trade and Investment, Jonathan Bell, was quoted in a public announcement on 6 February 2016 as saying: "It is with great reluctance that I have had to announce my intention to close both RHI schemes. (...) The available budget for new applications has been exhausted. To meet RHI commitments for existing installations, significant levels of additional funding will have to be found from within the NI Executive's budget for the next five years to address the current deficit."
There is further confusion to the current UK government energy policy as subsidies for gas and oil have been recently increased despite already giving the reason for cuts to renewables as to reduce family bills. It is hoped there will be better clarification by the next budget in March 2016, however, rumours are circulating that solar thermal may be a big loser under the RHI. 
Solar thermal reaches 2 % of the non-domestic and 12 % of the domestic RHI
But will this affect the current market situation, since the RHI has little impact on the market? According to the Ofgem quarterly statistics 116 non-domestic systems (qualifying if under 200 kW) were subsidised between September 2014 and September 2015. There were 1,460 residential water heaters approved during the same period, stabilising at around 100 systems per months. 
As of end of 2015, DECC revealed that solar thermal hot water heating made little better than 2% of all non-domestic systems supported during the whole RHI  scheme. For the domestic sector solar thermal showed 12%. This means even without the scheme there will be little change to the market. When considering just heat, biomass continues to take the majority of the subsidies for both sectors. 
Excessive bureaucracy and additional accreditation costs for MCS
According to the UK Solar Trade Association (STA), since the domestic RHI began in April 2014 there have been only 2,000 accredited solar thermal systems, representing less than a quarter of the total solar thermal market in 2010. They also say that there has been widespread concern about the long delay introducing the domestic RHI against the backdrop of solar PV feed-In tariffs and the excessive bureaucracy for installers and householders. The STA also wants the RHI to include space heating for houses which was originally excluded. 
There is strong evidence that solar thermal in the UK is already being extensively fitted without the RHI subsidy which also requires certification of the equipment and the installer under the Microgeneration Certification Scheme (MCS). There is possibly a market for solar thermal without the involvement of the government.  Here is an example represented by Roger Budgeon, Managing Director of the Greenshop Group who explained: "As a company we have already declined to continue registration for solar thermal, because most of the jobs we do are space heating support or pool heating so MCS is not relevant. The few ordinary (domestic) solar thermal jobs could not stand the additional accreditation cost being cast across them. We must get to a position where people and companies want the energy not the return in investment." 
UK solar thermal companies who drop the MCS accreditation has made little or no difference in the amount of work they get and their costs are cheaper. When a company has to be certified for all heat technologies (biomass, heat pumps, solar thermal) then the inspections could take about seven days per year. Roger continues "In my view it would be better, if the RHI and FiT were ended and consumers were actually looking for the energy, not just looking to invest their money to get the best Return on Investment." 
This text was written by Chris Laughton, Founder and Managing Director of the Solar Design Company in Great Britain. 
More information:
Non-domestic Renewable Heat Incentive in Northern Ireland remains suspended since 29 February 2016. The following table, however, describes the scheme as it was in place before.
Country / region

Northern Ireland

Name of programme

Northern Ireland Renewable Heat Incentive

Type of incentive

Payment to the end-user every ¼ year related to the quantity of energy

Eligible technologies

Solar thermal
Solid biomass 
Ground-source heat pumps
Water-source heat pumps
Geothermal
Biogas combustion
CHP
Biomethane injection

Applicable sectors

Non-domestic unless multiple dwellings

Amount

Different rates are paid according to technology and size. For solar thermal the rate is  0.088 GBP/kWh for 20 years. Applicants who are already part of the scheme will receive their existing tariff adjusted annually by reference to the Retail Price Index. A degression method will reduce the tariffs paid to new RHI recipients on a quarterly basis, if uptake of the scheme is higher than expected.

Maximum incentive

For solar thermal systems with less than 200 kWth

Requirements for system

The system must use liquid or steam to deliver the heat (i.e. no direct air heating).
The heat generated must be used in a building for space heating, heating water or for carrying out a process where the heat is used for cleaning or drying carried out on a commercial basis.
At least one heat meter must be fitted.
Solar thermal collector to be certified from Solar Keymark or Microgeneration Certification Scheme.

Requirements for installation

Below 45 kWth, the installation must be carried out by a Microgeneration Certification Scheme (MCS) registered installer.

Finance provider

The Department of Enterprise, Trade and Investment

Total funds

GBP 25 million up to 2015 (for all technologies)

Funding source

Public budget

Effective date

Some installations can be back-dated to 1 September 2010

Expiration date

March 2020 but tariffs for new applicants are regularly reviewed. Above mentioned tariffs are valid until 15 April 2014

Website

Last review of this tabloid

December 2015

Contact

Ofgem E-Serve RHI Enquiries:

Phone: 0044/845 200 2122

Email: rhi.enquiry@ofgem.gov.uk