Europe: Conference Season in First Half of 2016
Submitted by

Baerbel Epp

on February 1, 2016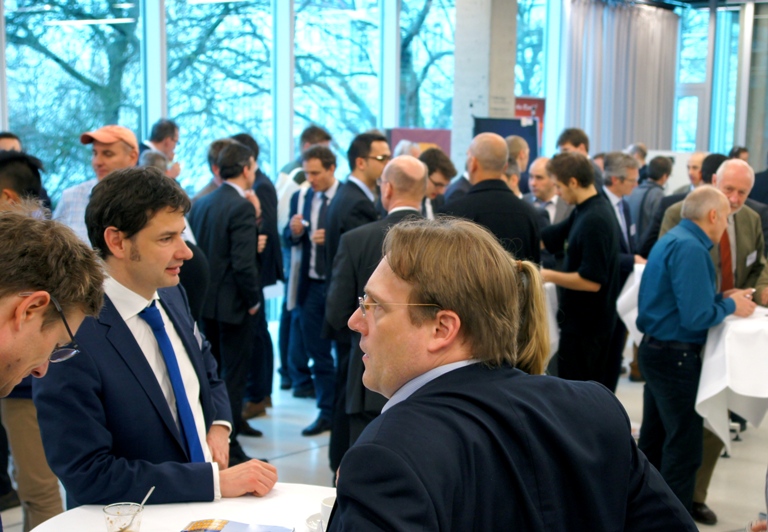 lendar of events on solarthermalworld.org shows around 60 events relevant to the solar heating and cooling sector. This article will highlight some of the upcoming conferences dedicated to the sector in the first half of 2016. If not mentioned otherwise, the conference language of the listed events will be English.
Photo: Stephanie Banse

As part of the European Nearly Zero Energy Buildings Conference, there will be a workshop on How to dynamise energy performance contracting (EPC) markets? taking place in Wels, Austria, on 26 February. Under an EPC arrangement, an energy service company implements a project to deliver energy efficiency or solar heat and use the stream of income from cost savings to offset project costs. Conference website

Storage days will be in Cologne again on 15, 16 and 17 March. Any participant of the conference held in Germany will have two options to choose from, to visit the fair and either take part in the conference Energy Storage Europe or in the International Renewable Energy Storage Conference (IRES). On Wednesday afternoon, IRES will have presentations on thermal energy storages in sessions C3 and C4. Key points are going to be large-scale storage solutions for heat, phase-change materials and the role of storage systems combined with heat pumps in smart grids. Conference website

The 6th Brazilian Solar Energy Congress (VI CBENS) is going to take place this year in Belo Horizonte, the solar city of Brazil with more than 3,000 solar water heaters, from 4 to 7 April. Conference chair Professor Elizabeth Marques Duarte Pereira intends to address the challenge of increasing the number of medium- and high-temperature applications for the industrial sector by establishing an entire production chain within the country. One session of the solar thermal conference day will be dedicated exclusively to this topic. The conference language will be Portuguese. Conference website

The 12th South-East European Exhibition on Energy Efficiency and Renewable Energy, SEE Solar, will be held at the Inter Expo Center in Sofia from 5 to 7 April and will again include a workshop on District Heating: Connecting Local and Renewable Energy Sources organised in partnership with Euroheat & Power, Belgium. Conference website

The largest German ST conference, the Solar Thermal Symposium organised by the Eastbavarian Institute for Technology Transfer, OTTI e.V., will take place from 20 to 22 April and cover a wide range of topics, such as innovative components and systems, solar architecture, solar urban planning, solar process heat, etc. On the day beforehand, 19 April, a special workshop on PV-Thermal will summarise the results of four German research projects in this field. The conference language will be German.
Conference programme PVT
Conference programme ST Symposium

The biennial Austrian conference Gleisdorf Solar, will gather solar thermal experts from all over the world on 9 to 10 June, offering technical tours the day prior, on 8 June. Key topics of the yet to be published conference programme will be successful business models, hybrid systems, district heating, solar process heat and component development. Conference website

The programmes of the Solarexpo conference in Milan, Italy, from 3 to 5 May and the All-Energy Exhibition & Conference in Glasgow, UK, from 4 to 5 May have not yet been available online, but they will most probably offer sessions relevant to solar thermal.